SELECTIVE
Rack Solutions by Warehouse Concepts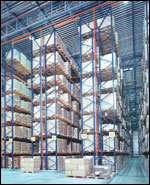 Versatile and Efficient Use of Space

Selective pallet rack provides universal access to every load stored in the warehouse and is the building blocks to an efficient rack system. Warehouse Concepts offers roll-formed tear-drop and keystone styles as well as bolted structural rack. Beams, uprights, and accessories are available in a wide range of sizes and capacities. Most sizes are available to ship in 72 hours!
Warehouse Concepts has the expertise to configure the selective pallet rack components in the configuration that best's suits your storage requirements. Drive-in/ drive-through rack systems, VNA (very narrow aisle) picking rack systems, and rack supported mezzanines, are a few of the solutions that WCI can build for your operation.
Dynamic Storage Rack by Warehouse Concepts
Warehouse Concept's dynamic storage rack solutions offer high density storage and first in/first out order picking. Working in conjunction with a selective rack frame-work, dynamic storage rack forms the core components of highly efficient pick-module systems.
Carton flow systems deliver dramatic cost savings in broken case order picking operations.
Using gravity as the free power source, carton flow rack can save 25% to 75% in labor over static picking systems. Efficient first-in/first-out rotation assures distributors of product freshness. High visibility prevents out-of-stock situations.
Push back rack offers multiple pick faces with fewer aisles.
This versatile form of pallet flow rack stores pallets two to five deep using nesting pallet carriages. Pallets are fed and retrieved from one aisle, making push back ideal for applications that require a large number of picking faces. It also reduces picking times while increasing throughput in high-density storage and retrieval operations
Shallow Lane Pallet Flow Offers First-In/First-Out High Density Storage
A first-in/first-out retrieval system, live pallet storage can double or triple capacity compared to drive-in or conventional pallet rack. It's ideal for freezer warehouses, food distribution centers, or for storage of high-volume commodities. If your operation involves a significant amount of pallet or carton order picking, live pallet can save you time, warehouse space and money.