Boltless
Shelving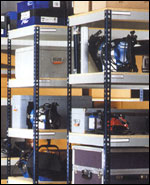 Boltless Shelving
This system is used for light to medium hand stacked applications. The blue post and light gray beams make this system appropriate for both the office and the warehouse. It can be used for a variety of applications from archiving office records to storing totes, bins, or boxes.
We offer a 2.5" high beam for the heavier applications. The longer beams are designed to accept our center cross ties for additional support.
Our 1" low profile beam, comes standard with a 2-pring connector that is more rigid than the traditional single rivet beam connectors.
Our boltless shelving is designed to be used with industry standard wood sizes, eliminating the need to cut panels to non-standard sizes.