Modular Systems
Warehouse Concepts, Inc. is proud to represent National Partitions' Modular Systems featuring the RapidWall™ System. We are able to provide 24 hour turnaround for quoting your needs! In addition, most standard sized systems can ship within a 2 week lead time.The RapidWall™ System is made up of a variety of Wall Types (exterior wall finishes / materials) and Wall Core Types (performance interior wall compounds / materials). The result is a perfect combination of exterior aesthetics and durability with performance sound deadening and fire protection built to fulfill your exacting requirements.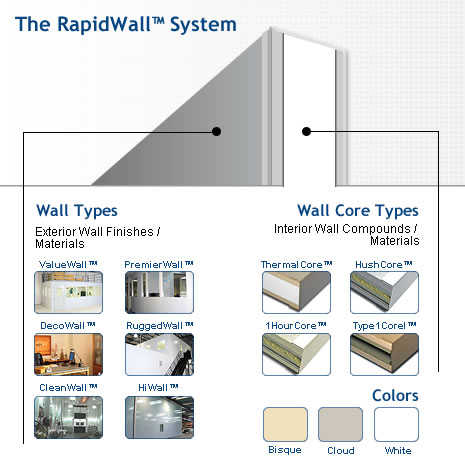 RapidWall System Features
DiamondCoat™ - This is National Partitions vinyl found on the Premier and Deco Wall lines. The Diamond Coat vinyl is nearly twice as thick and twice as strong as the Value Wall vinyl... and it offers a deeper, richer textured color. Definitely an upgrade in finish.
DuraBoss™ - National Partitions exclusive embossed steel surface. An embossed surface is preferred over smooth surfaces for long lasting good looks.
FlexTracks™ - Specially designed wall track system for "Floor-to-Ceiling" installations. Panels lift up into a deep top track and drop down into a shallow base track. Makes installations quick and easy for these applications.
GalvaCoat™ - All steel components that National Partitions manufactures, such as doors, jambs, channels, trim, and the Wall Gripper come with a galvanized or galvanealed protection. This protection seals and protects the components from corrosion.
PeelGuard™ - We protect our steel panel surfaces with a removable protective film. This film stays on the wall surface until the panel is set in place, and then it is removed by the installation crew.
TextureCoat™ - This durable powder coat finish is applied to National Partitions steel door line. The look and feel is similar to the stipple found on our 7 mil vinyl. Textured finishes hide minor bumps and dings and offer years of good looks. The finish can also be provided on our wall components and trim if desired.
TrueMatch™ - National Partitions exclusive finish for wall components and trim. This finish uses the same durable vinyl found on the Premier and Deco Wall Systems. Now your wall panels will have the same color and texture as the connection system providing a continuous, long lasting, monolithic look... offering an aesthetically superior and preferred finish compared to painted or bare metal components.
Gripper™ - National Partitions unique post system that grips the panel to prevent the intrusion of noise, dust and unconditioned air. This unique post system has two US patents... and is unique to the National Partitions series of products.
Panelized Wall Panels - Our panels are fully fabricated and ready to be installed when they reach the job site... Don't be fooled into buying a "demountable" partition system with its hidden site costs. These systems are no more than finish gypsum and studs. A demountable wall will cost much more to install and not offer the features of the unitized panel.
Nonprogressive Design - We call it the np Advantage™. Back in 1967, National Partitions was the first manufacturer to offer an in-plant wall system and it included this unique design. The ability to access a single wall panel without disturbing adjacent panels is what our modular system is all about. Door panels, solid panels and window panels can be swapped as needs change or replaced if one is accidentally damaged. So when you hear Nonprogressive, think np, think National Partitions.