Store Fixtures
Store Planning & Store Fixture Design by WCI
From store layout and fixture design through installation, Warehouse Concept's veteran store planning department has the expertise to turn your dream store into a visually attractive shopping experience that your customers will remember.
WCI offers a comprehensive line of display shelving & backroom storage solutions that will enhance many retail formats including: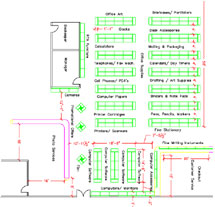 Convenience Stores
Dollar/ Discount Stores
Drug Stores
Farm Supply Stores
Hardware/ Home-centers
Office Supply Stores
Pet Stores
Specialty & Boutique Stores
Sporting Goods
Supermarkets
Toy Stores
Warehouse Superstores
In addition to store & storage fixtures WCI also furnishes complete interior build-outs including: partitions, floors, ceilings, counter / case work, and display lighting. Our retail environments are suitable for free-standing box or in-mall formats. Whatever or where ever the space, Warehouse Concepts can create the perfect retail environment for you. Chain store POP roll-outs, remodels, and resets are most welcome.
---
The say the key to success with any retail establishment is "Location, Location, Location." But after you find that "Location", the battle cry should be "Store Layout, Store Layout, Store Layout." A proper store and plan can mean the difference between profitability and just staying in business. Simply having shelving and racks with product on them is not the definition of a successful store layout.
How effective is your store layout and does it encourage impulse and tie-in sales? Did any of you customers see the new product that you put out near aisle 20? It is all well and good when customers can run in and get what they need, and leave, but it is the unplanned purchases that your customers make that make you more profitable.
By definition, store layout is the creation of a comfortable shopping environment and a traffic pattern that encourages buying and makes possible the total exposure of all goods available for sale in your store. Let's begin by looking at some of the objectives that a profitable store layout promotes:
Encourages the customer to travel throughout the entire store.
Introduces new goods effectively.
Leads the customer through high margin merchandise areas.
Builds impulse sales. Promotes step-up sales.
Makes the customer feel comfortable shopping in your establishment.
Builds prestige for your store and good will for your customers.

Ultimately, these points are what a good store layout is going to accomplish. Successful implementation of all of the objectives will lea to an increase in sales. The three main factors in developing a profitable store layout are Atmosphere, Traffic Flow and Merchandise Prominence.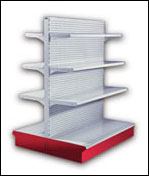 Gondolas
7" high kick front toe
Strong and durable construction
Shoes and uprights are factory pre-assembled
Leveling screws included
A variety of panel backs are available
Available in a variety of Handy colors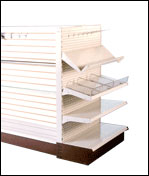 End Units-End Frames-Base Decks
7" high kick front toe
Strong and durable construction
Leveling screws included
Can be used as a stand alone Point of Purchase Display
A variety of panel backs are available
Available in a variety of Handy colors